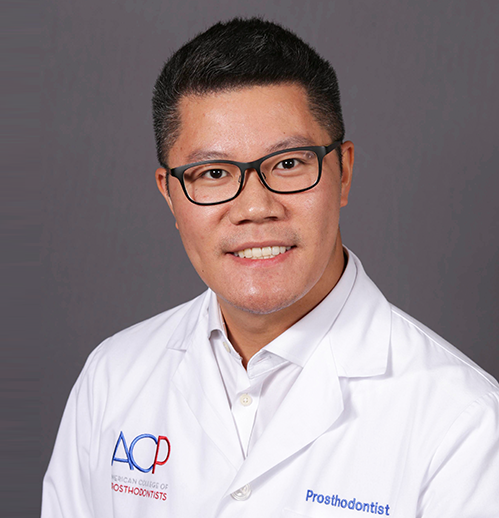 Dr. Austin Leong
Dr. Leong was raised in New York and graduated Magna Cum Laude from SUNY Buffalo in 2007 with a B.A. in Chemistry, a B.S. in Biochemical Pharmacology, and a minor in Mandarin Chinese.

He then pursued his D.D.S. degree at SUNY Stony Brook, graduating in 2011.  He received multiple awards during dental school, including Hanau Best of the Best Award for Excellence in Prosthodontics, Steven Gold Award for Leadership in Dentistry, American Student Dental Association Award for Excellence, Foundation of the Pierre Fauchard Academy Scholarship, and Rich Oringer Clinical Research Award.
After dental school, Dr. Leong continued his education by completing a 3-year residency in Prosthodontics at the University of North Carolina, Chapel Hill. During his residency, Dr. Leong was awarded yearly the Ann and G. Randolph Babcock Fellowship. Following his time in North Carolina, he then returned to New York to complete a 1-year Fellowship in Maxillofacial Prosthodontics at the world-renowned Sloan Kettering Cancer Center in 2015.

Prior to joining Trailhead Dental, Dr. Leong was as an Associate Professor and Course Director of Removable Prosthodontics at Temple University, School of Dentistry in Philadelphia, Pennsylvania. In 2019, Dr. Leong was named Faculty of the year at Temple University, School of Dentistry.

As a Maxillofacial Prosthodontist, Dr. Leong is also an expert in the prosthetic reconstruction of patients with head & neck cancer, cleft lip & palate, trauma, or congenital anomalies affecting the orofacial region. He is passionate in helping his patients improve their health, appearance, self-confidence, and overall quality of life.

Outside of of dentistry, Dr. Leong enjoys spending time with his wife Karen, and their growing family. The Leong family love Colorado's adventure and scenery, and are happy to have made Colorado their home.